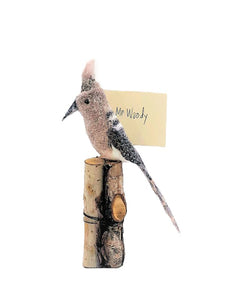 Woodpecker Card Holder 3.5" x 6"
Our enchanting Woodpecker Card Holder is adorned with a lavish coat of light-reflecting glass glitter, ensuring it catches the light and captures hearts. Its fashion-forward sense is on full display with a majestic silvered crown embellished with wispy feathers, making it the reigning monarch of style.
Perched gracefully on a wooden log wrapped with wire, our Woodpecker brings a whimsical touch to any occasion. Whether you're sprucing up your holiday table or adding flair to a special event, this charming creature will be the talk of your guests. 
---
More From This Collection