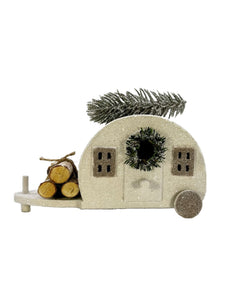 Vintage Trailer, Large - Dove
Behold our "glampy" dove-colored vintage trailer, a true masterpiece of nostalgic charm. 

Gazing upon its glass glitter-covered door, you'll feel as though you've stumbled upon a hidden entrance to a fairytale castle. Adorning the trailer is a glittered twig wreath, a touch of nature's delicate artistry intertwined with the irresistible allure of shimmering magic. 
And let us not forget the treasures it carries on its journey. A silvered pine tree, reminiscent of freshly fallen snow, stands tall, showcasing the beauty of nature's wonderland.  
If you're ready to embark on a voyage where vintage sophistication meets the ethereal realm of glamping, our "glampy" dove-colored vintage trailer awaits. Step into a world where fantasy intertwines with nostalgia.
---
More From This Collection