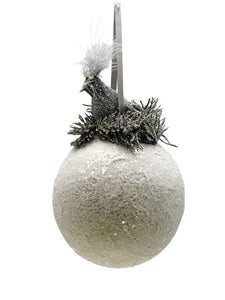 Quail with Pine Ornament - Dove
Our dove-colored Quail Bauble Ornament is a true luminary in the world of holiday decor! 
This bauble takes its rightful place amidst the branches, casting a magical glow that rivals a disco ball at a festive dance-off. Its surface boasts a generous coating of light-reflecting glass glitter, creating a dazzling spectacle that can outshine even the most radiant shooting stars. 
Perched atop is a sparkling quail donning a wispy feather headdress while resting on silvered pine needles. These charming accents add a whimsical twist to the glimmering festivities, bringing a touch of woodland enchantment. 
Adding a touch of sheer indulgence, we've adorned the bauble with a satin ribbon hanger. It's the perfect finishing touch to this masterpiece of merriment.
---
More From This Collection