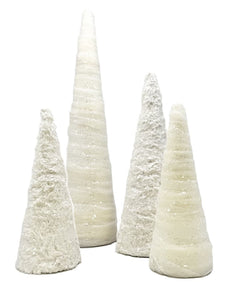 Ice Fur Tree, Small - Bisque Fur
Shown Left: Wrapped in the soft embrace of bisque faux fur and adorned with a generous sprinkling of sparkling glass glitter, this cone-shaped tree glistens with elegance.
Versatility is its middle name. This tree shines as a stunning standalone centerpiece, radiating charm and grace. Or combine it with other sizes to create an dramatic display. It's the perfect recipe for an enchanting winter wonderland that will leave your guests spellbound.
Whether gracing your living room, office, or a holiday event, this cone-shaped beauty steals the spotlight with its fabulously frosty effect. Embrace the season's joy with a touch of witty elegance as our tree becomes the star of your festive decor. 
---
More From This Collection