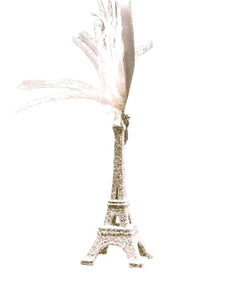 Eiffel Tower Mini Ornament - Dove, Feathers
Embrace the charm of Parisian elegance with our dove-colored mini Eiffel Tower ornament. 
Generously coated with shimmering glass glitter, adding a touch of sparkle and enchantment to your holiday decor. Its glistening surface reflects the light, creating a captivating display that will catch the eye.
Wispy feathers delicately crown the top of the Eiffel Tower to add a whimsical touch. 
Tres, oh la la! With its charming design and sparkling details, this ornament celebrates a timeless icon and joie de vivre. Hang it with delight on your tree or adorn a festive garland, and let the Eiffel Tower transport you to the romantic streets of Paris.
---
More From This Collection