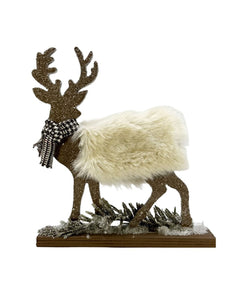 Deer Silhouette - Mocha
Our mocha-colored deer silhouette is adorned with a sprinkling of whimsical glass glitter that dances with the light. This dashing creature is fashion-forward, flaunting a trendy black and white wool scarf and a sumptuous eggshell-colored faux fur blanket that adds elegance.
Perched proudly upon a base emblessished with a silvered pine branch, this charismatic deer brings a touch of winter magic to any space. Its mocha tones and shimmering sparkle blend seamlessly with any decor, making it a captivating centerpiece for your home or offPrepareready to embrace the season with a dash of sophistication and a pinch of woodland charm. Our mocha-colored deer silhouette gives you a truly mesmerizing and stylish accent. 
---
More From This Collection