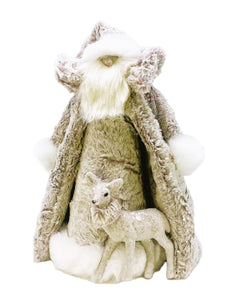 St. Nick with Rudy - Oatmeal
Step into a world of holiday enchantment with our one-of-a-kind St. Nick, the epitome of festive flair and timeless charm! This is no ordinary Santa Claus; this is a Santa Claus with a personality that shines brighter than Rudolph's nose on a starry winter night. With his glittered pink nose joyfully poking through his oatmeal-colored faux-fur hat, he captures hearts and spreads cheer wherever he goes. And who could resist his fluffy beard, a soft cloud of white that invites gentle caresses and adds a touch of whimsy to his jolly countenance? By his side stands the legendary Rudy the reindeer, bedecked in sparkling glory, ready to embark on magical adventures. Together, they create an unbeatable duo, a dynamic duo that captures the spirit of the season and ignites imaginations with their boundless joy.
Our dear friend. St. Nick is dressed to impress in a coordinating full-length coat and gown that exude elegance from every fiber. Picture a warm-white fur trim that evokes feelings of coziness and opulence, wrapping St. Nick in an embrace of luxurious comfort. With every step he takes, heads turn, eyes widen, and hearts skip a beat. He sets the standard of holiday fashion, a trendsetter in his own right, redefining what it means to be a stylish Santa Claus. From his perfectly tailored coat to his impeccably designed gown, he is a sight to behold, a symbol of holiday glamour that sets the bar high for all other holiday ensembles.
Prepare to be enchanted by the presence of St. Nick and Rudy the reindeer, a pair that embodies the magic and wonder of the holiday season. With their sparkling personalities and elegant attire, they will make a statement and leave lasting memories in the hearts of all who encounter them. Let them be the centerpiece of your holiday celebrations, the source of laughter and joy, and the catalyst for creating cherished traditions. 
---
More From This Collection