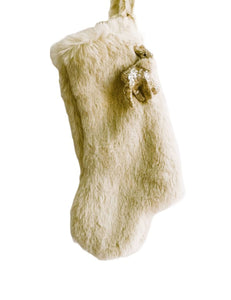 Stocking with Fawn 10 " - Gold Mica, Mushroom Fur
Our delightful mushroom-colored faux-fur stocking is where elegance meets woodland charm in the most delightful way! Prepare to be captivated by its enchanting design and the adorable surprise it holds.
Take a closer look and discover a tiny fawn nestled upon the stocking, glistening with a coating of light-reflecting gold mica and a fur scarf. This dashing creature adds a touch of whimsy and sparkle to your holiday decor.
This stocking is far too enchanting to ever receive a lump of coal. It's a true treasure that deserves to be filled with the most delightful surprises, ensuring that your holiday season is filled with joy and wonder.
It's the perfect addition to your holiday decor, bringing a touch of woodland magic and a hint of mischievous delight.
---
More From This Collection