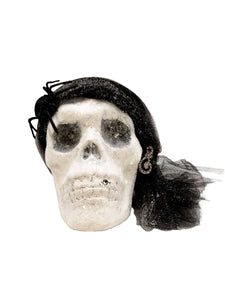 Jack Skull - White
Prepare to meet the swashbuckling sensation of the Halloween season, Jack Skull! This daring buccaneer is here to steal your heart and plunder your Halloween decor with his charismatic charm.
Jack's white skull is a mesmerizing masterpiece covered in shimmering glitter that catches the light and dazzles all who behold it. But that's not all that makes him unique. One of his teeth boasts a black rhinestone, adding a touch of pirate swagger to his grin.
Jack's pirate-inspired head scarf is tied to one side in true seafaring style. Made of black tulle and drizzled with chunky glitter chips, creating a captivating texture that captures the essence of his swashbuckling swagger. And to add a touch of danger and mystery, a black widow rests on one side of the scarf, while a rhinestone brooch adorns the opposite side.
Jack Skull is ready to embark on a Halloween adventure like no other. Whether he graces your mantel, guards your treasure trove of treats, or adds a touch of pirate whimsy to your costume party, he's sure to be the plunderer of hearts and be the talk of the seven seas.
Embrace the pirate spirit, and let Jack become the treasure that completes your Halloween decor!
---
More From This Collection