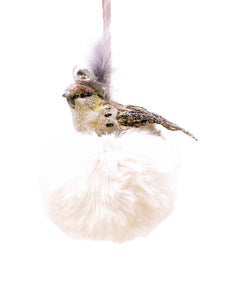 Bird with Orb on Pouf Ornament - Eggshell Fur
Indulge in the enchanting company of our charming avian companion, gracefully adorned in shining glory. Shimmering with a generous coat of sparkling glass glitter, meticulously layered upon its delicate form. A magnificent shiny silver orb and an exquisite feather headdress further elevate its regal presence.
Nestled upon a luxuriously soft and plush eggshell-colored faux-fur pouf, our little feathered friend finds solace in its opulent resting place. Its impeccable taste extends to even the finest details, as evidenced by the satin ribbon hanger that adds a touch of elegance to its already magnificent display.
Prepare to be entranced by this exquisite creation. With its impeccable craftsmanship and unparalleled beauty, this captivating treasure will become the centerpiece of your holiday tree or any space it graces.
---
More From This Collection